News

For upcoming events you can check out my:


Twitter



Feel free to add my banner on your page:


Modelmayhem.com

MySpace






News 2018 | 2017 | 2016 | 2015 | 2014 | 2013 | 2012 | 2011 | 2010 | 2009 | 2008 | 2007

News, events 2018



December 29, 2018
Zirconia Starfighter performing for SPANK at Wave (29.12.2018, Athens)

The last month of the year is also my birthday month and I kinda celebrated it by dancing like most of the times. I started from the 1st of this month dancing & performing at ClubGR (1.12.2018, Psakhna, Evia GR) in Ecvia. On Saturday the 8th of December, I performed for Warland Productions & Perfectone at one of the most underground clubs I ever performed, in Gazi Area, called Asylum (8.12.2018, Gazi, Athens GR). It was even not so possible to find exactly the front door but the party was so rad, full of music lovers who danced till early in the morning!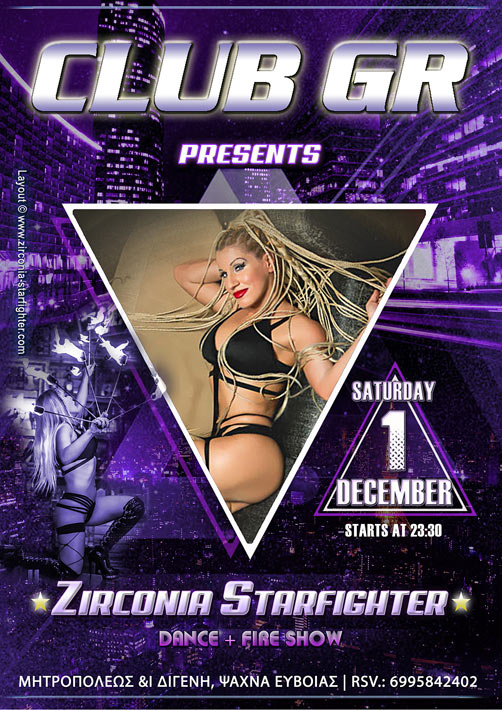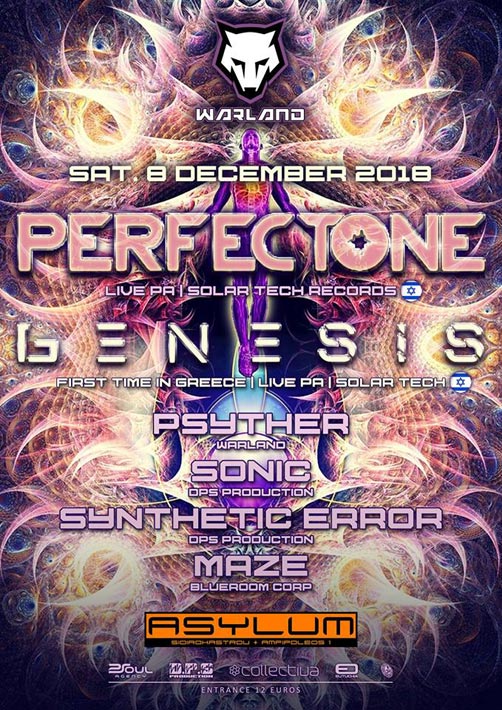 On Friday the 14th, one day after my birthday, I go-go danced at Guess Music Club (14.12.2018, Marousi, Athens GR). On Saturday the 15th, I had the honour to perform for another psychedelic trance party of The World Of Trance Team & Baraka Trance Athens at Wave Club (15.12.2018, Athens GR). Unfortunately, the head-liner of the festival, Eat Static, canceled his appearance due to an urgent problem he had but, I had the luck to meet other amazing people anyways. On Friday the 21st, I performed at Harley Davidson Club Hellas (21.12.2018, Peristeri, Athens GR). Saturday the 22nd, unfortunately I lost my participatoon to Juno Reactor (at Monastiraki Center), in order to travel to Aliartos, to perform at Floges Club (22.12.2018, Aliartos GR). I had a great time though at all parties and places!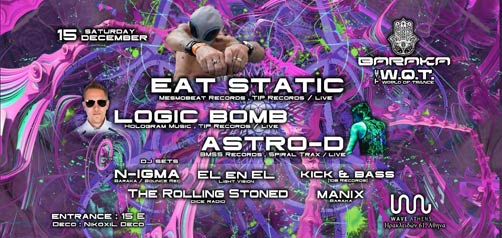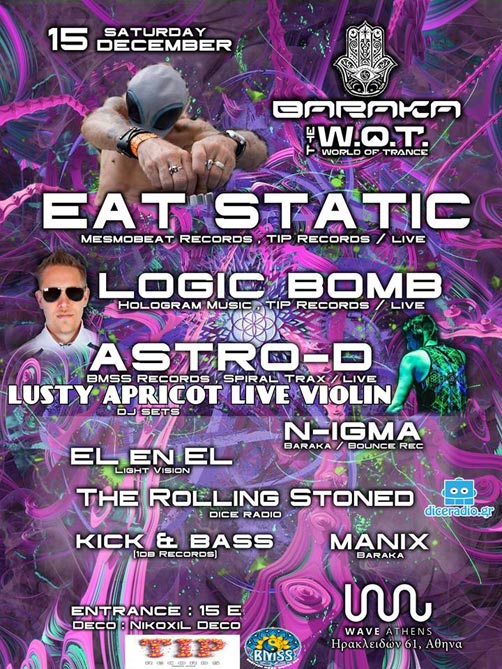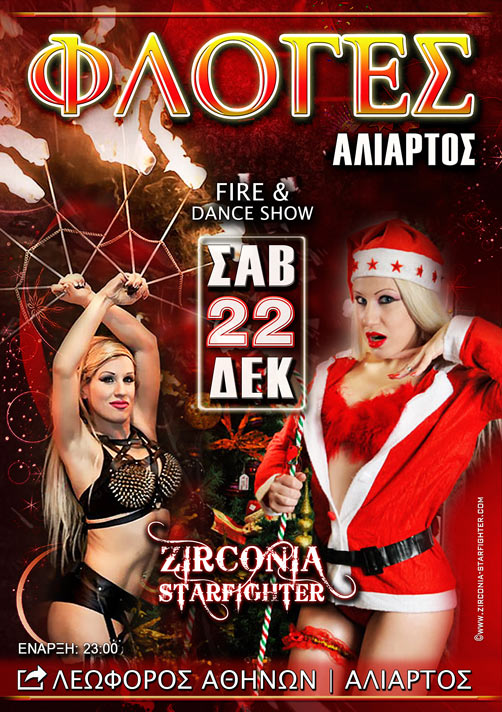 This year, Christmas Eve happened to be on Monday, so, at the 24th, I traveled to Kalavryta to perform at Event Cafe Club (24.12.2018, Paos, Kalavryta GR). I had a little adventure in the morning of my return as there were no buses and I traveld a bit with a taxi as well! On Friday the 28th I danced at two clubs, Minas Nargile in Kaminia - Piraeus & Rendez-Vous club in Zografou Area (28.12.2018, Athens GR). On Saturday the 29th, I had the honour to perform for SPANK Party at Wave (29.12.2018, Athens GR). But, before that, I also performed with my led costume & my Sexy Santa suit at Pasha Coffee Bar in Piraeus.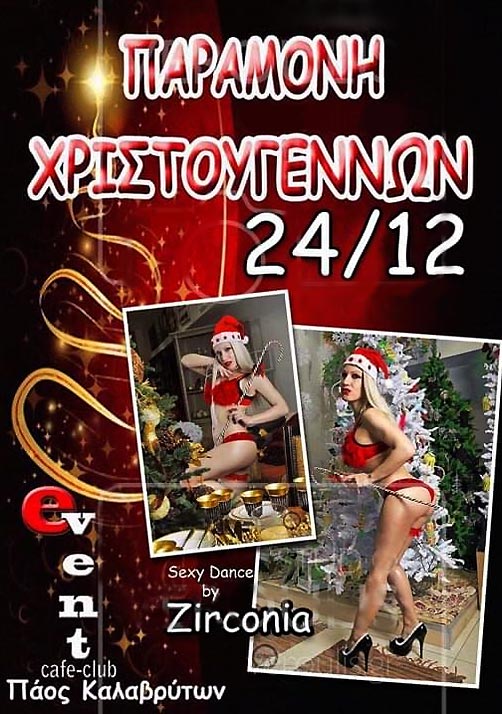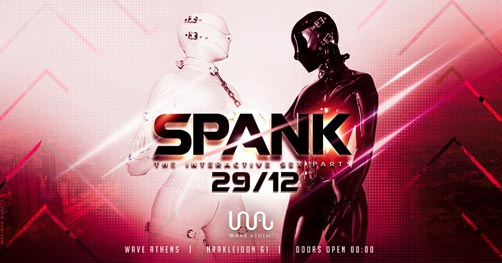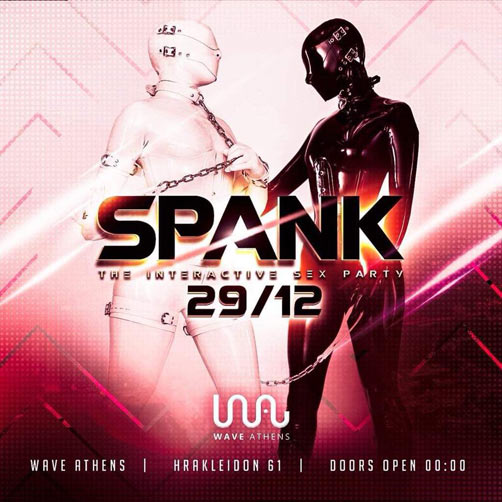 Both parties were great fun and a lot of rush from me as well. The New Year's Eve found me at Galaxidi after a few years dancing -and performing also in my led costume- at Melyudron Club (31.12.2018, Galaxidi GR)! So, Monday the 31st, found me in a car changing the new year traveling with the other dancer.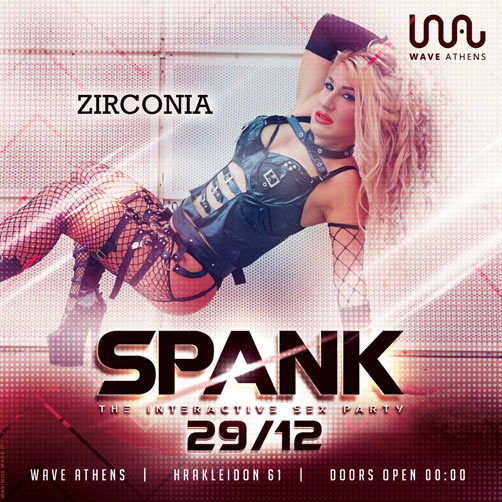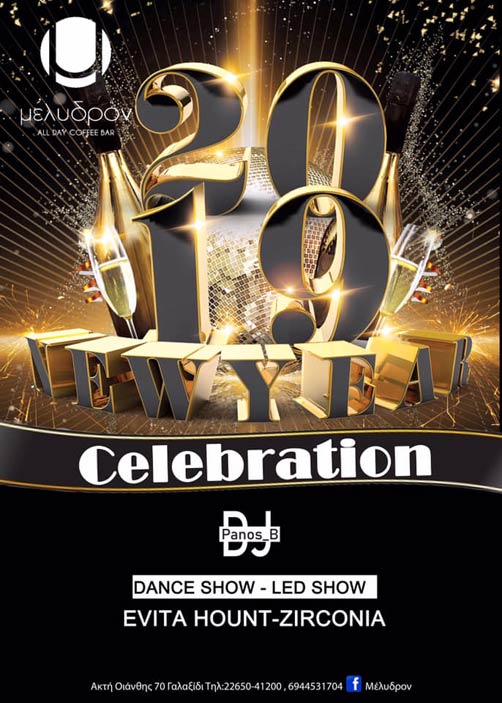 I hope the New Year is bringing more and more interesting opportunties, prosperous, healthy & happy days and traveling!... Happy New year everyone!

News 2018 | 2017 | 2016 | 2015 | 2014 | 2013 | 2012 | 2011 | 2010 | 2009 | 2008 | 2007